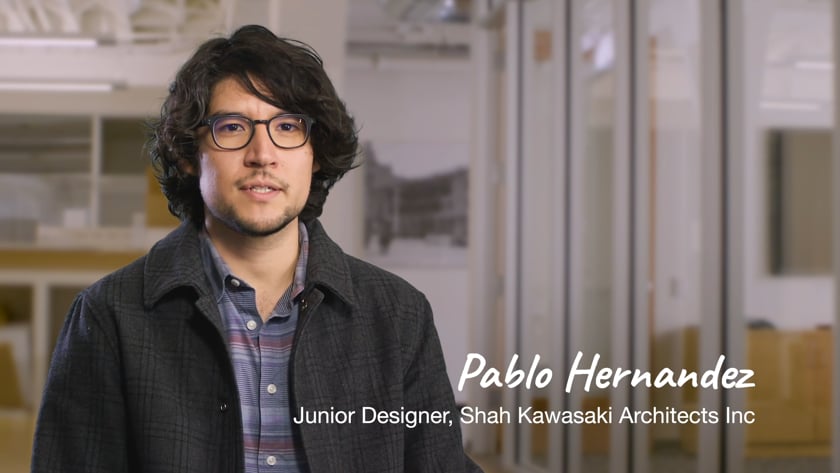 Pablo Hernandez 
Class of 2008
Pablo Hernandez has always been driven to create. As a teenager, the Oscar De La Hoya Ánimo Charter High School alumnus spent hours of his free time drawing and painting, and finding new ways to push his artistic and creative boundaries. 
Even then he knew his career path would lead to the arts. While his parents were always supportive of him, Hernandez recalls his dad asking him "how are you going to make a living drawing things?" Today, Hernandez is a designer at Shah Kawasaki Architects in Oakland, California. The civic architecture firm has served the community for nearly 20 years, leading several projects including: The Sam Fox Visual Arts and Design Center, Golden Gate Recreation Center, The Brentwood Municipal Service Center, and the Alameda County Vector Laboratories. "It's not every day that people get to draw for a living, so I'm really happy to be doing that," smiled Hernandez.
Drawing a Path to College
Growing up, Hernandez's parents stressed the importance of a higher education. They saw a college degree as the key to success and so they sought out opportunities to equip their children with the tools necessary to achieve postsecondary success. In the spring of his eighth grade year his parents began wondering how they'd ensure their son attended a good high school. "The [local] high school there was sort of a challenging environment for students to develop," recalled Hernandez. "Leading up to my middle school graduation, ODLHA recently started up, so they were just excited to have, like, this new option." ODLHA was founded in 2003 in response to the need for high quality public school options in the Boyle Heights community. Hernandez would go on to become a part of the school's second graduating class. 
He describes his four years at ODLHA as inspiring, rewarding and challenging. "Green Dot-- was really useful, because they were really demanding with their curriculum compared to the average kind of school experience in the area," said Hernandez. "They held you to a much higher standard, which in turn means that you're used to people pushing you to achieve your full potential." It was at ODLHA, that Hernandez was first introduced to the possibility of a career in architecture. During the school's second annual career day, students met with professionals from diverse industries and learned about the many career opportunities available to them. "Ms. Karutani, had this career day, her dad came in and she was saying, 'Oh, yeah, my dad's an architect. He works on all these great projects in Downtown Los Angeles,'" recalled Hernandez. He remembers thinking: "Wow, this guy's really cool. He kind of had my dream job."
Exploring Passions
After graduating from ODLHA in 2008, Hernandez began attending University of California, Berkeley, a decision he contributes to the teachers and staff at ODLHA. Throughout his high school career they encouraged Hernandez and his peers to fully explore their options: "The teachers were always there pushing you." He graduated from UC Berkeley with a Bachelor of Arts in Architecture and later returned to the university to pursue a Master of Architecture. To hone his skills and increase his employability, Hernandez interned at several architectural firms while completing his graduate studies. 
In 2018, Hernandez earned his Master's degree and was hired by Shah Kawaska. Hernandez was drawn to Shah Kawaska because of their focus on civic architecture. This work is centered on civic buildings and seeks to provide essential services to the community and help create a sense of belonging for residents. "A lot of architecture is working for more higher-end clients. But for me, it's fulfilling to have more of a public-based architecture [career] that's really giving to the community and helping the civic fabric," said Hernandez. "I think the most rewarding aspect is getting to work on buildings that everyday people might interact with."
A Work of Art
Education has long been a vital part of Hernandez's life. His postsecondary pursuits have helped him tap into his limitless potential, setting him on an enriching and fulfilling career path. 
One of his favorite aspects of architecture is the necessity for lifelong learning. Advances in technology have introduced a rapid number of new architectural tools and software. This has pushed Hernandez to consistently expand his knowledge and improve his skills to maximize his capacity. "Anytime a new software comes to the market for architects that looks like it's giving them an edge, we have to adopt. It's a lifelong commitment to learning, which is kind of very important in our field, or else you kind of get left behind real fast," said Hernandez. 
Reflecting on his journey he is grateful for the love and encouragement he received from his parents. "They were always trying to provide for me and my sister," reflected Hernandez. "And we as children, noticed that, and so it kind of gave us the-kind of stamina to say, "Yeah, we can kind of do better. We can have better lives.'"
Hernandez has achieved great success, he is proud of what he has accomplished and excited for what's to come. "I get to make drawings for a living, which is just amazing," said Hernandez. Through education Hernandez has afforded him a career that fuels his creativity and draws on his passion for civic engagement and art.