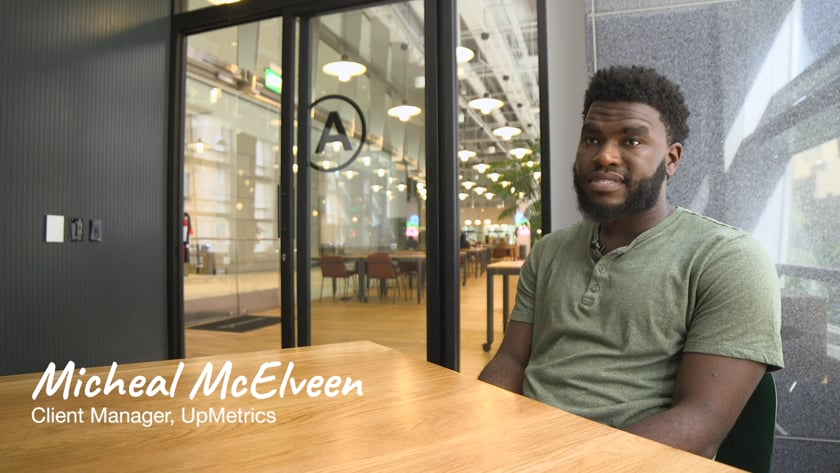 Micheal McElveen
Class of 2009
Education, impact, data, social impact, and technology have been powerful driving forces in the life of Micheal McElveen. McElveen, a 2009 Alain LeRoy Locke College Preparatory Academy alumnus, is a Client Manager at UPMetrics, a mission-driven team committed to helping community-based organizations share their story and amplify their impact. Their clients include the Special Olympics, Unicef, and the LA Dodgers Foundation. "With UpMetrics, we're meeting with folks in community-based organizations, philanthropy, education and so we're starting to see how we all kind of live within this ecosystem, and how each of us can effectively play a role to create really unique opportunities for our youth and their families," said McElveen.
Success on and off the Court
In 2008, Green Dot joined with teachers, parents and the community to transform Locke, one of the most persistently low-achieving schools in California, and turned it into a safe, personalized learning academy. McElveen admits that a college education wasn't always a possibility. "With my experiences, just in life, growing up in Section 8 housing, having sort of like that tough path, there's no college involved in that," said McElveen. "For me, I had to really take a step back and say, 'Okay, what is actually happening here? Where are my priorities and, like, what are the goals?' Which is the only push that I really needed, and so I feel like Green Dot provided that." 
During high school, McElveen was very involved in athletics, and through his love of sports, he connected with Stephen Minix, who was a physical education teacher and coach at Locke at the time. "When I enrolled at Locke, Stephen began to blossom and grow as a man, as a professional, as a leader of young kids. He really instilled in us those same values. It doesn't matter what age or stage you are in, you have the opportunity to lead," reflected McElveen.
Minix would go on to lead Locke's varsity athletics program and Micheal became the team's varsity point guard. During this time, the two forged a strong bond, McElveen even attributes Minix as one of the key motivators in his pursuit of a college education. "When I was in a position to transition from high school to college, we had a pretty cool conversation, it ended with him saying, 'One day we're gonna work together.' He saw something in me that I probably didn't see in myself at the time," said McElveen. He vividly recalls this conversation and believes it empowered and inspired him during the most challenging times on his journey to and through college. "And so my next step, realistically was to go to college and execute, because I knew at the end of that road, there was gonna be an opportunity to work with Stephen." 
McElveen attributes his success to the mentorship and guidance he received during high school, but Minix disagrees. "What did I do to cultivate him? Nothing. Truly nothing. All I did was be a positive, consistent male role model that held the line," said Minix. "We didn't fix Micheal. We supported him, and he let us support him. And I think that's kind of the true secret to his success."
After graduating from Locke in 2009, McElveen attended American University in Washington, D.C. In 2013, he earned a bachelor of arts degree in communications with a minor in marketing. Throughout this time McElveen and Minix kept in touch and in 2016 an opportunity opened up that would allow the two to collaborate again. "When the opportunity came along, to be able to partner together at UpMetrics, to be able to work together and really move the needle for communities, it was a no brainer," recalled McElveen. "And so for the three years I've been there, the five years he's been there, it's been nothing short of magic, and it's nothing more than I could have ever expected." 
Reflecting on his path to professional success, McElveen can't imagine his life any other way. He has a fulfilling career that allows him to explore his many passions, he works alongside his mentor and other talented professionals committed to serving communities across the country, and most importantly he has a loving family and a partner of three years. "I get excited talking about work and the opportunity that's there. So, I don't take it likely, but the reality is it's always going to be family first for me. I need to be present and engaged to give my full self to that because I think that, for me, will be my success long-term regardless of what happens with work," said McElveen. He is grateful for both the support he has received and the challenges he's faced in life because they've helped shape him into the person he is today. "At 28 years old, I think Micheal at 20 would be really excited and proud of who he is now.'"