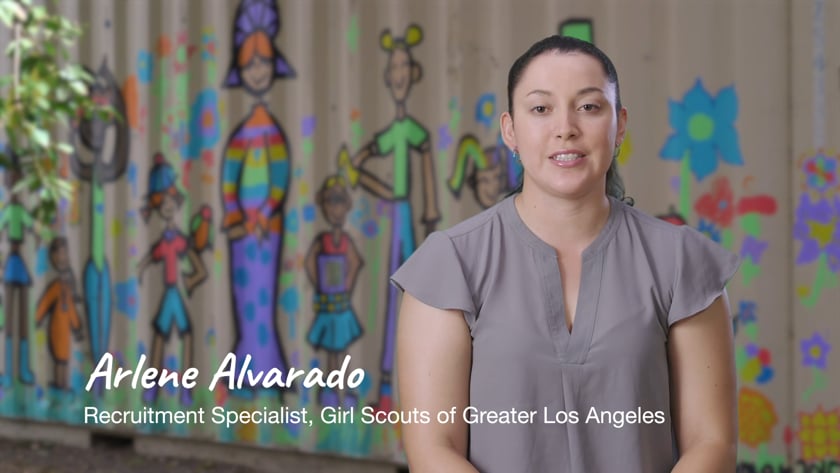 Arlene Alvarado 
Class of 2010
Growing up, Arlene Alvarado, a class of 2010 alumna from Ánimo Jackie Robinson Charter High School, didn't think college was a possibility. Until one day she found a flyer that changed her trajectory; it read 'Ánimo Jackie Robinson Charter High School, starting soon.' It's been 15 years since Alvarado found that flyer, today the AJR alumna works as a recruitment specialist for the Girl Scouts of Greater Los Angeles, linking girls to life-sized opportunities across the nation.
Born in South Los Angeles, Alvarado and her two siblings were raised by a single mother. She sought out enrichment programs to expose her children to new opportunities and experiences. She enrolled her children into dance, acting, percussion, and swimming activities, which helped instill a love for learning in Alvarado and her siblings. Her mother would tell her, "You have to get your college degree before anything else so you can be independent, so you can work for yourself." Before high school, the University of California, Los Angeles was the only college Alvardo knew existed, still she kept her mother's mandate close to her heart. 
Alvarado attended a nearby middle school where the classroom environments lacked stability. One year, she recalls having a revolving door of substitute teachers." I never had a permanent teacher. I just had substitutes the whole year," Alvarado said. "I just knew I wasn't learning because my grades said it." 
When Alvarado found the AJR flyer, she felt hopeful and excited as she pondered how this new school would prepare her for college, leadership, and life. With the flyer clutched in her hand she hurried home to tell her mom about this new school. 
Ánimo Jackie Robinson Charter High School 
"As a kid growing up in the hood, you don't have new stuff, everything is pretty much hand-me-downs," Alvarado said. And that's why she appreciated being one of the first students to attend Ánimo Jackie Robinson Charter High School. "I couldn't wait to start my freshman year," she added. 
During summer orientation, Alvarado fell in love with the school. She was overwhelmed by the variety of athletic clubs and Advanced Placement courses available to her . "Everyone took advantage of every opportunity that Ánimo Jackie Robinson provided," Alvarado said. Her mother felt equally served because the school was diligent about removing barriers that would otherwise inhibit parents from engaging in their children's education. School leaders at AJR always shared information and resources in both English and Spanish. "It was easier for my mom to understand because I didn't have to translate it." Alvarado said.
Alvarado entered AJR, significantly behind academically. Initially, Alvarado struggled with the school's rigorous coursework. "I had challenges writing in high school," Alvarado said. "I never did work like this in middle school, let alone writing a three page essay." At AJR, teachers met Alvarado where she was and provided her with instructional support to accelerate her learning and bolster her confidence in the classroom.  As a result, Alvarado excelled. "I found a school that cared just as much as my mother. They didn't see me as another student. They knew my name," she said.
In high school, Alvarado also had the opportunity to expand her knowledge about college. Her teachers encouraged students to perform well on SAT and ACT tests and AP Courses to get a headstart in college. "They made sure we were on track," Alvarado said. "If it wasn't for them teaching us about college applications and financial aid, I definitely would not have been able to apply to so many colleges." For Alvarado, Ánimo Jackie Robinson was life changing. "They never told us no," Alvardo said. "They said 'go for it.' Now, I'm telling myself 'go for it,' too."
A New, But Familiar Hope
With newfound tenacity, Alvarado attended Mount Saint Mary's University in Los Angeles, California and majored in Criminology. "I had great professors. I made friends with them. My counselor was amazing,' Alvarado said. Reflecting on her mother's college mandate, and her teachers' insistence, Alvarado realized the value of college. "College is really important. It doesn't matter what major you're deciding to go for. As long as you have that degree. It's a self accomplishment." 
Now, Alvarado works for the Girl Scouts of Greater Los Angeles as a recruitment specialist. In this role she designs and implements growth plans, establishes and maintains relationships with community organizations, and organizes recruitment events across the region. In response to COVID-19, Alvarado's team has worked with partners to create virtual programming that allows girl scouts to earn virtual badges and learn life skills, practice entrepreneurship outdoor skills, and participate in STEM projects. "I love listening to how passionate the volunteers are. They see it, fall in love with it, and participate for many years."
Reflecting on her road to college and career pathway, Alvarado recognizes that education has played a critical role in her life's trajectory. While the journey has been challenging at times, the obstacles have helped her take greater pride in her accomplishments  "I didn't grow up in a successful household. I had to obtain success. I had to achieve it. I had to work for it,"Alvarado said.  Today she builds community partnerships and inspires professionals to help empower young girls to become the leaders and change agents of tomorrow.