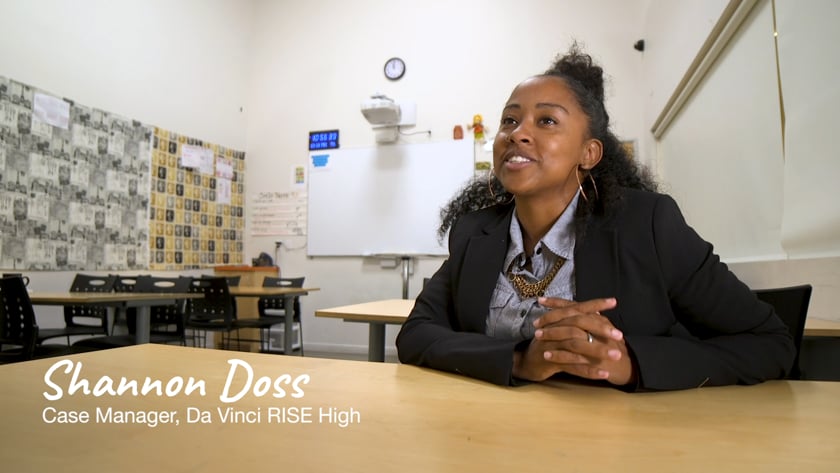 Shannon Doss
Class of 20011
A college education paved the way for Shannon Doss to create lasting change in the lives of the most vulnerable students in California.  The Ánimo South Los Angeles Charter High School alumna is a social worker at Da Vinci Rise High School. In her role, Doss works with Los Angeles youth navigating challenging circumstances including foster care and housing instability. "By helping the students that I serve, I think I give them hope. I think a lot of times, they don't have it. I know when I was growing up, I didn't," reflected Doss. 
Doss' childhood experiences inspired her to pursue a career in social work: "I was in foster care from the age of 16 until I went to college. When I was in foster care, I had a lot of mentors at ASLA that helped me along the way, and so I want to be that for somebody else."
Road to College
Prior to attending ASLA, college never felt like a possibility for Doss. "Growing up in South LA, in the neighborhood that I grew up in, I think college did seem like a very hard thing to achieve," she admitted. "There were a lot of barriers to getting to college. What helped me overcome was having an intrinsic motivation which didn't come right away." 
At ASLA, Doss was consistently reminded that college was not a matter of 'if', but when. At each step of her high school career, Green Dot educators equipped Doss with the knowledge and tools to navigate the complexities of the college admission and enrollment process. "I think Shannon knew education was going to be her way to break the cycle," said Christiane Bell, counselor at ASLA. "Sometimes the more in need you are, there's more opportunity for you to go to college, that's why guiding kids who don't have that support is really important." 
After Graduating from ASLA in 2011, Doss attended the University of California, Los Angeles where she graduated early and earned a Bachelor's Degree in Sociology and African American Studies. While completing her undergraduate program, Doss had a revelation. If she hoped to fulfill her life's mission, she knew she needed to further her education. After graduating from UCLA, Doss pursued a Master's Degree in Social Work at the University of Southern California. "I knew I needed to get the social work degree in order to help people in the way that I wanted to," said Doss.
Defining Success 
Doss' career as a social worker has provided her with opportunities to explore passions and change the lives of others. "Right now at my job, I think my favorite part and what I'm really passionate about is mental health," said Doss. "Being able to be that person for these students, doing therapy with them, but also showing them how to build skills of resiliency and things that will help them when they get out of high school."
Reflecting on her road to college and career trajectory, Doss admits her definition of success has changed: "For me I think success means, as a mom and parent, raising the next generation of students to be productive citizens," said Doss. She instills a love of learning in her children and empowers them to use their hearts and minds to change the world. When she thinks about her son and daughter's future, she is often reminded of her late mother: "My mom always told me, 'raise your kids like you're raising them for someone else.' So they're not my kids. They're the world's kids."