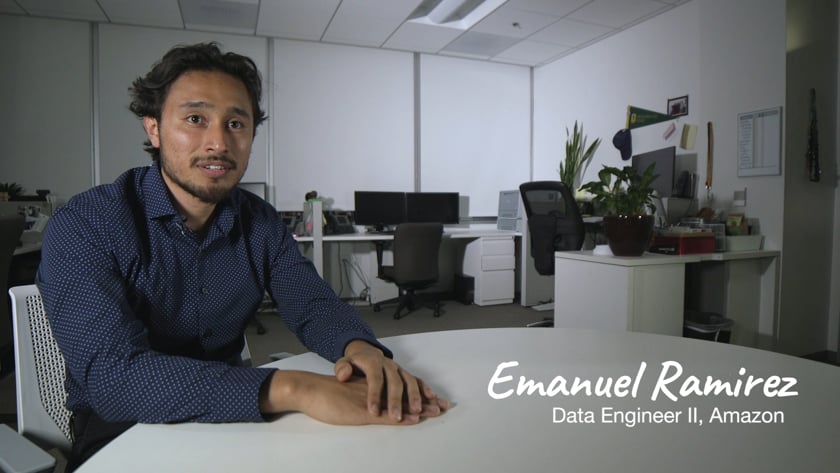 Emanuel Ramirez
Class of 2012
Emanuel Ramirez has always had a curious mind and a knack for problem solving. As a student at Ánimo Pat Brown Charter High School (APB), the class of 2012 alumnus demonstrated a strong interest in mathematics and science. He fondly recalls showing up to school two hours early just to have more time to participate in the school's robotics program. His passion for science, technology, engineering, and mathematics has led Ramirez to a career as a Data Engineer II at Amazon. "Being able to build a walking robot at Ánimo Pat Brown kind of paved the way. That's when I decided that I wanted to be an engineer," smiled Ramirez.
Breaking Down Barriers
Ramirez knew a college education was his key to success, but a college education had always felt like a path through the unknown. "I think Green Dot definitely helped with exposing me to college. I am a first-generation college student and so no one at home knew anything about college. No one at home knew what college campuses were like or the process of applying to colleges," said Ramirez. At APB, he was challenged with rigorous coursework, he visited several colleges and universities, and his teachers and counselors provided him with support and resources to navigate the complexities of the college application process. "The culture was very geared towards getting me to college. Ánimo Pat Brown instilled the idea that going to college is the engine for social mobility." 
At APB, Ramirez took advantage of every enrichment opportunity the school offered. In addition to the robotics club, Ramirez participated in SAT and ACT preparation programs, utilized office hours, and sought out extracurricular opportunities to strengthen his writing and math skills; all while working a part time job and supporting his daughter. "Although it was very tough at times, I always found the strength to continue going forward. She's the reason why I always kept going," said Ramirez. Balancing his responsibilities and educational pursuits was challenging, but Ramirez knew he always had the support of teachers and staff at APB. "Mr. Snyder was my political science teacher and I remember vividly how he would help me with my personal statements, SAT preparation, and whenever I had problems at home," reflected Ramirez. 
Watching Ramirez grow at APB, Snyder knew the young man would go on to achieve great things. " I never had a doubt about his future success, because Emanuel really always seemed to have some, like, deeper sense of where he wanted to go," recalled Snyder. 
Engineering a Path to Success
After graduating from APB in 2012, Ramirez began attending the University of California, Los Angeles where he developed the knowledge and skills that would lead him to a career as a data engineer. 
At UCLA, he studied mathematics and with a minor in statistics and a specialization in computing. In his studies, he learned the fundamentals of computer programming and database development.  "I didn't know necessarily that I wanted to be a data engineer when I was in college, and so when I graduated I began working as a technical consultant at a small software company, kind of testing the waters, doing basic programming languages," recalled Ramirez. A year later, he secured a data engineer position within the company, an opportunity that opened endless possibilities. "I kind of just really fell in love with structured query language servers and kind of understanding how to move data from one place to another," said Ramirez. This newfound interest led him to a position at Amazon, supporting the advancement of Amazon's artificial voice-enabled Alexa devices
Reflecting on his journey, Ramirez has achieved more than he could have ever imagined. "I come from a poor family and I never imagined making a lot more than they did. Growing up. It was really hard for me to kind of picture myself as being someone really successful," reflected Ramirez. For Ramirez, success isn't solely measured by money or his own accomplishments The APB alumnus believes success is about the difference you make in the lives of others and the world around you. He consistently strives to inspire his family and children so that one day they will thrive and surpass their wildest dreams. "Part of the American Dream is to kind of be better than the previous generation, and I feel like I have to keep pushing in order to set a good example for my family. And I think that's what makes me successful.