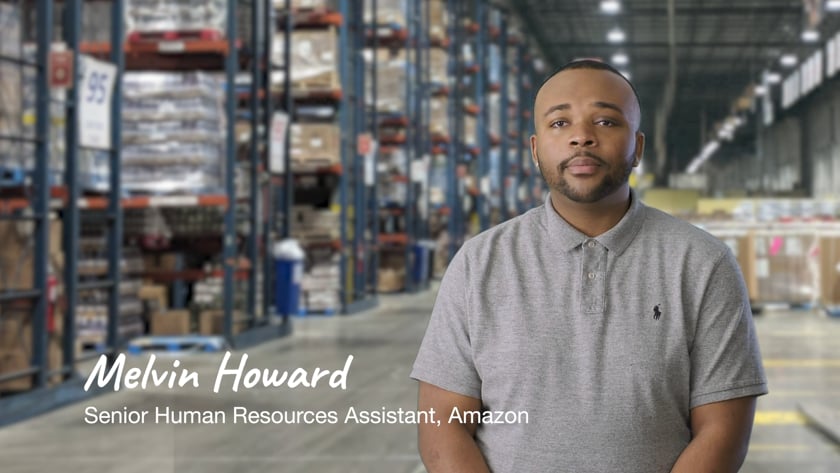 Melvin Howard 
Class of 2015
Melvin Howard has always felt driven to help others. The Fairley High School alumnus attributes this desire to his parents who always emphasized the importance of empathy, compassion, and connectedness. "We all have our personal goals but they've always taught me to do something bigger than yourself--to try and better my surroundings," recalled Howard. 
Today Howard is a senior human resources assistant at Amazon. He plays a key role in supporting and maintaining a work environment where employees feel valued, supported, and successful. "At Amazon, the human resources department is kind of different. Ultimately, we drive associate engagement and invest time into developing our associates," said Howard. "We try to make the associates' day better than the last. One of our mottos is 'every day is day one."
A Launch Pad for Success
Growing up, Howard knew that a college education was part of his life's plan. "My parents, especially my mom, would always ask, could I see myself going to college. So when I was in middle school, I pretty much knew that I wanted to go to college," said Howard.
The Tennessee Department of Education invited Green Dot Public Schools to lead Fairley in 2014 after the school persistently appeared among the lowest 5% performing schools in Tennessee. As a Green Dot student, Howard received the support and guidance needed to navigate the complex college application process. "They were very active in helping us look for scholarships and applying to different colleges. They would schedule college tours and take us to different schools around and even outside of the city." These additional supports combined with exposure to diverse opportunities, helped Howard confidently complete key steps along his path to college. 
At Fairley, Howard created lasting memories in the school's marching band. Participating in Fairley's music program provided Howard with an opportunity to be a part of something much larger than himself. Through marching band he formed strong familial bonds, acquired a deeper appreciation for the arts, and inherited life skills that would aid him through his adult life. "Mr. Cowens always taught us to give 110% in everything-- and always take pride into anything that we did," reflected Howard. 
After graduating from Fairley in 2015, he began attending Middle Tennessee State University (MTSU). At MTSU, Howard recalls entering college feeling confident and equipped to navigate the complexities of college life. He believes that the education he received at Fairley instilled the resiliency skills needed to achieve academic and career success. "I know with those skills that I learned, I was able to go to school without having culture shock because I was already prepared."
Work hard. Have Fun.
At Amazon, Howard has found a compelling career that allows him to help others set and reach their goals. Each day his work challenges him to take innovative approaches to solve complex problems that impact the lives of countless others-- a responsibility he doesn't take lightly. "The most rewarding aspect of working at Amazon is interacting with the employees and associates. I'm always on the front line trying to get to know them more, to help them develop--grow in the company," said Howard. He's grateful for the values his parents instilled in him and the skills he developed at Fairley. For Howard, knowing his purpose has been key to his career fulfillment and success.