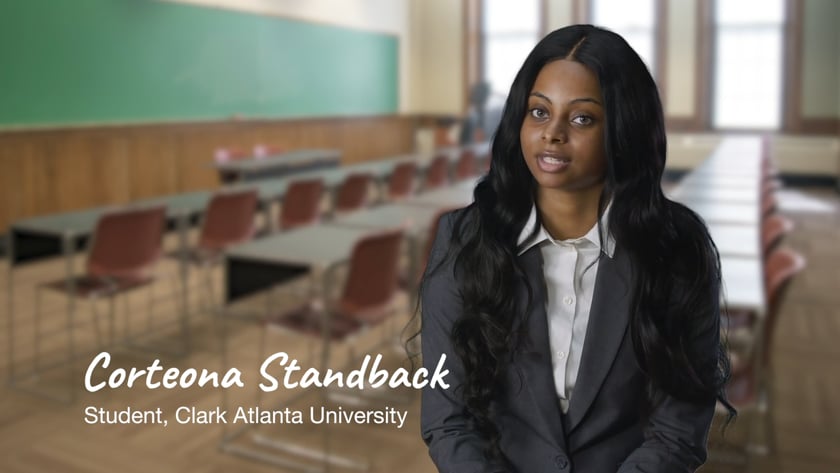 Corteona Standback 
Class of 2017
From a young age, Corteona Standback knew a college education would play a key role in her future. But the Fairley High School alumna never envisioned that her road to college would lead her 400 miles away from her home in Memphis, Tennessee, to Clark Atlanta University, a Historically Black College and University (HBCU) in Atlanta, Georgia.
Forging a New Path
Growing up, Standback had always been a capable student, but she was never pushed beyond her self-imposed limits. But when the Tennessee Department of Education invited Green Dot Public Schools to lead Fairley High School in 2014, Standback's high school experience shifted. College was suddenly at the forefront of every conversation, and a great emphasis was placed on helping students build a strong path to and through college.
"Green Dot brought me to my fullest potential as a student, they pushed us to be better than what we were," reflected Standback. It was during this time that Standback became more involved on campus, participating in leadership opportunities and extracurriculars such as the National Honor Society and marching band. "Everything that I participated in while I was here, prepared me for things I would be up against when going to college." 
Michael Cowans, former music teacher at Fairley, saw Standback grow and thrive in this new learning environment. "Her attitude was so phenomenal. Grades were top notch, she was mentally tough," recalled Cowans. The music teacher and his colleagues consistently stressed the importance of education, self-discipline, and goal planning. "It is important for these kids to really talk about college, because for so long college wasn't a reality for them." 
At Fairley, Standback was encouraged to step out of her comfort zone and explore colleges and universities outside of her home state. "My mentor actually helped me decide to go to Clark Atlanta, I wanted to get a different experience," said Standback. At Fairley, teachers and counselors provided Standback and her peers with support and resources to navigate the complexities of higher education. These practices emboldened students to truly see themselves at college. 
Education is the Key to Success
After graduating from Fairley in 2017, Standback began attending Clark Atlanta University where she pursued a Bachelor of Arts in Business with a concentration in marketing. Once she graduates in the spring, she will begin working towards her ultimate goal of becoming a business owner. "I just want to be successful in my field, I just want to have my own real estate business," said Standback. "I will be able to provide for my family. I will know I've made it."