A confirmation message has been sent to your email.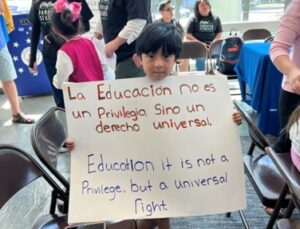 Parent leaders with Schools Superintendent Tamu Lucero and Stamford Representatives Blumenthal, Delany and Figueroa. July 25, 2023 – A momentous occasion unfolded this past Saturday at the Stamford government center as parents, advocates, and local officials gathered to celebrate the passing of a groundbreaking ELL Bill of Rights. This new legislation will require all public…
Although Montiel doesn't see herself as the perfect student, her struggles have made her even more determined to attend college. The Jordan Brand awarded Ánimo Pat Brown Charter High School senior Brianna Montiel the Jordan Brand Wings Scholarship. Montiel is among thirty-four high school students across the United States to join the Jordan Brand Wings 2023 cohort.
After graduating from Ánimo Inglewood Charter High School, Ronald Gomez didn't let his educational journey in Los Angeles end there. Since Ánimo Inglewood, Gomez has attended the University of California Los Angeles, Loyola Marymount University, and the University of Southern California, studying political science and government, urban education, and law. Cristina de Jesus, President and CEO of Green Dot Public Schools California, remembers Gomez as amazingly gifted and talented. "He was a hardworking student and just an all around great human being," she said.
Green Dot Public Schools
1149 S. Hill St., Ste 600
Los Angeles, CA 90015
Phone: (323) 565-1600